Junius Heights proudly presents its 7th annual home tour on Sunday, November 3rd from 11am - 5pm.
 The Junius Heights Home tour fair along with raffle will be held at The Greenhouse located at the corner of Munger and Gaston. This year we will be featuring 5 homes and an apartment home at The Greenhouse on the tour covering Craftsman, Prairie and Tudor styles that make our neighborhood one of the most unique in Dallas. Our neighborhood has a long rich history in Dallas and is the largest historic neighborhood in the city with more than 800 homes in the district. This is a must see home tour for anyone interested in understanding the history of Dallas.
Ticket Prices and Locations
The price for touring the homes is $10 for advance purchase and $15 if purchased the day of the event. Advance tickets can be purchased at the Lakewood Whole Foods for $10 thru Saturday November 2nd.  The day of the event November 3rd tickets can be purchased at the Junius Home Tour Fair at The Greenhouse or at each of the homes.
Homes on tour this year:
The six homes that will be featured in the 7th Annual Junius Heights Home Tour have been chosen and will be open for you to experience historical architecture on Sunday November 3rd from 11 to 5pm. In addition, please join us at The Greenhouse for our Junius Heights Home Tour Fair which will include Food Trucks, Activities for the Kids, Local Craft & Market vendors and Raffle Prizes.
2013 Home Tour Raffle Winners:
The Mitchell Family Eric Easley Wendy Millsap
Pat Pryor Betty Gallagher David O'Hara
Shelley Vatzlavick Matt Wood Charlie Clemmer
Daniel Mendenhall Annette Evans Ronda Blackburn-Scrader
Bill Siebert Jan Wier Guinn Powell
Featured homes are: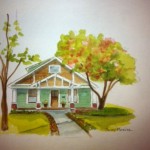 715 Parkmont  
The Timmons House was built in 1916 with detailed front gable and whimsical rafter tails, this house almost looks like a cross between a Swiss chalet and a Japanese pagoda. Today, the house is undergoing extensive renovations under the direction of noted historic renovation's architect Daron Tapscott which will add a second story music room and library.
5638 Gaston                   
5622 Worth                      5701 Victor
711 Dumont                     The Greenhouse