Junius Heights proudly presents its 9th annual home tour on Sunday, November 8th from 11am – 5pm.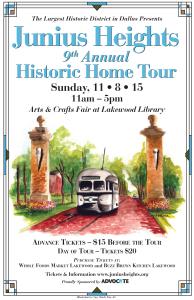 The Junius Heights Home Tour will feature the former St. John's Methodist Church plus 6 homes covering Craftsman and Prairie styles that make our neighborhood one of the most unique in Dallas.  The tour also includes a backyard Art Exhibit and 2 craft beer stops. The Arts & Crafts Fair along with a raffle will be held at the Lakewood Library. Our neighborhood has a long rich history in Dallas and is the largest historic neighborhood in the city with more than 800 homes in the district. This is a must see home tour for anyone interested in understanding the history of Dallas.
Ticket Prices and Locations
Tickets are $15 for advance purchase and $20 if purchased the day of the event. Advance tickets can be purchased at the Lakewood Whole Foods and Buzzbrews Kitchen Lakewood for $15 thru Saturday November 7th.  The day of the event November 8th tickets can be purchased at the Junius Home Tour Fair or one of the tour homes.
Homes on tour this year:
The 6 homes and backyard Art Exhibit featured in the 9th Annual Junius Heights Home Tour  will be open for you to experience historical architecture on Sunday November 8th from 11 to 5pm.
Featured homes are:
5601 Eastside Ave - The former St. John's Methodist Church
6102 Gaston Ave
5314 Victor St
5407 Victor St – Backyard Tour including Art Exhibit, Craft Beer Stop, and Nomadic Pie Co. (Pizza)
5617 Tremont St – Craft Beer Stop
703 N. Glasgow Dr
701 Huntley St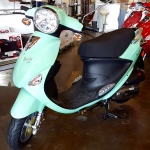 In addition, please join us at Lakewood Library for our Junius Heights Home Tour Fair which will include Ruthie's Rolling Café Food Truck, Local Craft & Market vendors and Raffle Prizes. The Grand Raffle Prize is a scooter, color choice is yours!
Junius Heights is bicycle FRIENDLY! We will have a bike rack at each stop on the tour.