Junius Heights proudly presents its 8th annual home tour on Sunday, November 9th from 11am – 5pm.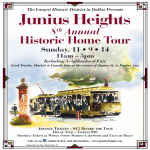 The Junius Heights Home Tour will feature Juliette Fowler and 5 homes covering Craftsman, Prairie and Tudor styles that make our neighborhood one of the most unique in Dallas.  The fair along with a raffle will be held at the corner of Junius Street and Paulus Avenue. Our neighborhood has a long rich history in Dallas and is the largest historic neighborhood in the city with more than 800 homes in the district. This is a must see home tour for anyone interested in understanding the history of Dallas.
Ticket Prices and Locations
Tickets are $15 for advance purchase and $20 if purchased the day of the event. Advance tickets can be purchased at the Lakewood Whole Foods for $15 thru Saturday November 8th.  The day of the event November 9th tickets can be purchased at the Junius Home Tour Fair or at each of the homes.
Homes on tour this year:
The five homes that will be featured in the 8th Annual Junius Heights Home Tour have been chosen and will be open for you to experience historical architecture on Sunday November 9th from 11 to 5pm. In addition, please join us at the corner of Junius Street and Paulus Avenue for our Junius Heights Home Tour Fair which will include Food Trucks, Activities for the Kids, Local Craft & Market vendors and Raffle Prizes.
Featured homes are:
5319 Victor Street                   
720 Nesbitt Drive                      5630 Victor Street
5538 Junius Street                    5638 Tremont Street

Home Tour 2014 Sponsors